Threatened by multiple human activities, marine turtles are internationally recognised as being of conservation concern.
With six of the world's seven species of marine turtle occurring in Australian waters it's little wonder they are protected under both state and federal legislation.
This has critical ramifications for your industrial activities. Should your project occur in proximity to marine turtle habitat, regulators may require you to demonstrate the management of any potential impact.
How Pendoley Environmental can help
As global leaders in the monitoring of marine turtles in industrial environments, we can tailor a comprehensive, cost-effective monitoring program that meets the standards of your project's rigorous health and safety protocols.
Prioritise potential impacts early in the project lifetime

Allow future cost savings by using the data to implement more effective and efficient control measures

Reduce delays to the project's approval decision
Track Census
Demonstrate your activities have not reduced the nesting population of turtles in the vicinity of your project

Demonstrate your activities have not caused marine turtles to nest at potentially less-suitable nesting habitat
Our ground and aerial surveys can rapidly detect changes in nesting activity, both over time and over large geographic areas, providing distribution and abundance data that is essential for effective management planning and response.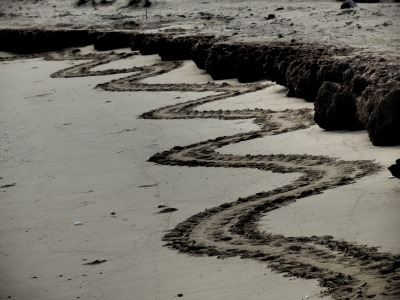 Tagging
Demonstrate your activities have not reduced the nesting populations of turtles in the vicinity of your project
As a long lived species, the marine turtle life cycle is complex. Tagging provides information to understand the long-term impacts of your project on the demographics of a turtle population. Suitable for populations and projects of any size and for any duration, our capture-mark-recapture technique delivers the highest quality data, meeting compliance conditions for assessing impact at a population level.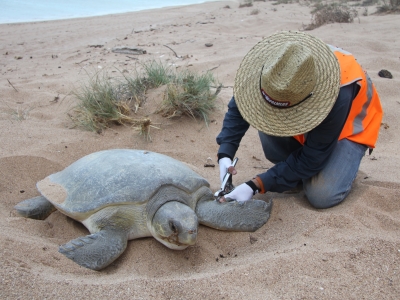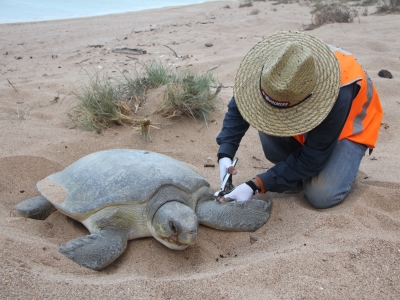 Nest Success
Demonstrate that activity adjacent to nesting beaches has not degraded the nesting environment or caused decreased survival of developing turtle eggs
Monitoring the early stages of a marine turtle's life cycle is critical to understanding long-term effects of impacts to the overall population. We can provide early detection of potential impacts occurring below the sand surface (such as poor hatching and emergence rates) so you can take early action.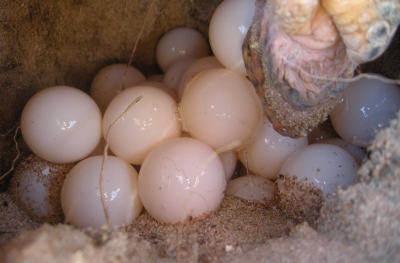 Satellite Tracking
Demonstrate your activities do not impact marine turtles in-water away from the nesting beach

Understand potential interactions between marine turtles in-water and the location of dredging activities
Marine turtles spend 99% of their lives at sea. Through advanced mapping and spatial analysis techniques, we can track movements and identify turtle behaviour offshore to pinpoint the potential or realised impact of industry marine operations such as dredging, construction and vessel movements.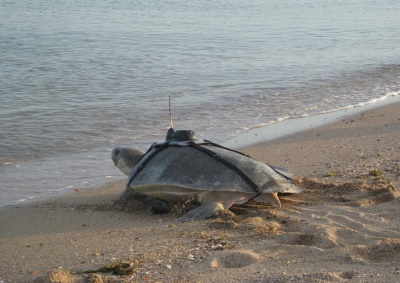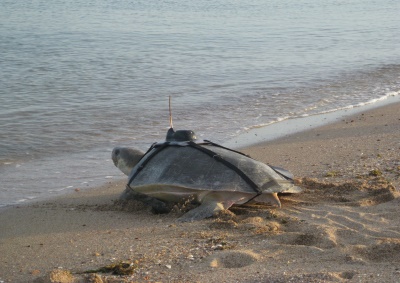 Hatchling Orientation
Demonstrate your project lighting has not affected hatchling sea-finding ability
We have unparalleled expertise in assessing hatchling response to artificial lighting. Dr Kellie Pendoley's PhD focused specifically on hatchling response to light and in 2005 she developed a peer-reviewed methodology approved for monitoring of hatchling orientation in response to industrial lighting in WA.
Today, this approach has been integrated with output from our patented Sky42™ digital imaging system, allowing us to pinpoint problematic light sources to minimise impacts of on- and offshore artificial light on marine turtle hatchling orientation.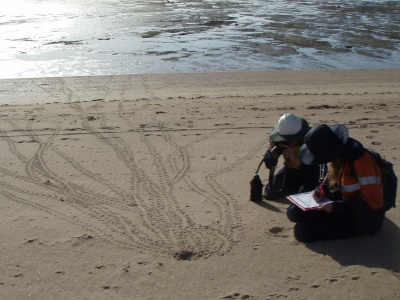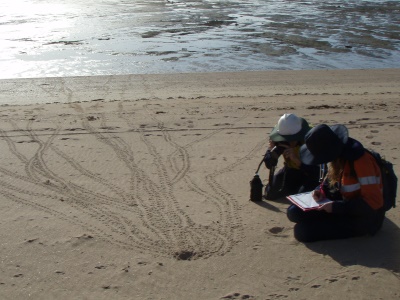 Hatchling Dispersal
Demonstrate your near-shore activities do not impact marine turtle hatchlings as they swim away from the beach.
We use the latest movement tracking technology to monitor offshore hatchling dispersal and survivorship. This allows us to quantify the level of influence your offshore operations are having on hatchlings (such as artificial light emissions and physical barriers) after leaving the nesting beach.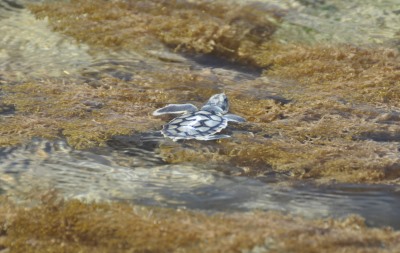 Lighting Assessments
Demonstrate your project's lighting regime is not disrupting the behaviour of sensitive fauna species including the sea-finding ability of marine turtle hatchlings
Marine turtle hatchlings are sensitive to sources of ambient light. Hatchlings in particular rely on horizon brightness cues to find the ocean after emerging from the nest. Furthermore, artificial lighting adjacent to the nesting beach may discourage adult females from emerging to nest.